*You are reading the Needle's Queer Guide to Berlin. 
Definitions of what it means to be 'gay' has changed so much over the last decades, so Schoeneberg's 'gay village' feels very much like a throwback. But one you might find both comfortable and convenient.
Berlin is a gay city and there are apparently more gay men per capita here than anywhere else in Europe. So maybe talking about a single 'gay village'––when most neighbourhoods are very gay or queer––is not very helpful. But let's say Schoeneberg was the 'gay village' of West Berlin in the 70s and 80s, where there is still a concentration of gay places that's higher than elsewhere.
What is your definition of a 'gay' bar?
For argument's sake, I'd say a 'gay' scene means bars that will be all-men (few or no women in sight), where many of the international fashions and standards for gay life (incl. music, fetish culture, incl. tribally affiliated with the rubber or leather scene) are present in a predictable but comfortable way. Schoeneberg, as I mentioned, is the yesteryear "gay village", with rainbow flags, pink faux-fur on the walls, elaborate cocktails, Madonna, Gloria Gaynor or Lady Gaga on the anthem playlist, men in leather caps, and a sling in the basement.
Schöneberg's a big place. Where exactly?
Yes, you're right. These boroughs are vast, and so you want the right 'kiez' or neighbourhood. The streets that run from Nollendorfstraße U-Bahn station have most of the gay action. There are gay bars, restaurants, gay bookshops, gay sex shops, artisanal leather workshops, gay cafés…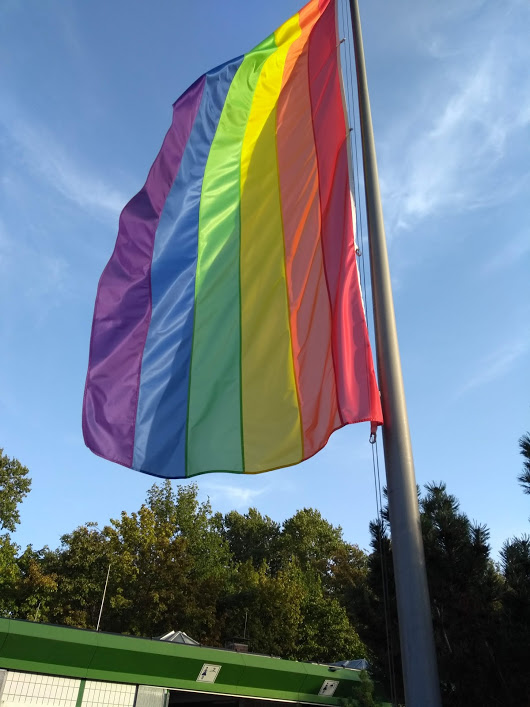 Is Schoeneberg for everyone?
Probably not. It's just a little vintage compared to the other opportunities on offer in the city. Some will criticise: this is a commercially fabricated notion of what it means to be gay, sold to people as one-size-fits-all solution for gay identity. But remember, Schöneberg was the centre of the Berlin gay rights movement, where this kind of solidarity changed laws and liberated people. Not just in the 70s of 80s of former West-Berlin, but also much earlier, in the times when Christopher Isherwood lived here in the Weimar Republic (try Brendan's famous tour). And it's not as homogeneous as all that. There are many dedicated sex bars in this neighbourhood that correspond to every kind of fetish you can imagine. Everything might be wrapped in a rainbow flag, but it might also be sealed with not just a kiss, but a perhaps the hiss of whip, if you are wanting it.
A whip?!
This is also the neighbourhood that hosts a number of all-male fetish events––such a Folsom Europe or the Street Fair––where there is plenty of public sex, shopping opportunities for well-made leather and rubber gear, and a real camaraderie of international gay men who come from everywhere to participate in their particular scene.
Are there a lot of older guys here?
There is an age dimension to Schöneberg too: there are many younger tourists here, but the Berliners that participate in the Schöneberg scene tend to be older (35+). That means if you think you are 'too old' to go out (what does that mean? nobody is too old!) on the scene, you will find Schöneberg refreshingly low on ageism. And there are plenty of young hot guys (a lot of tourists looking for the 'gay village') to boot.
What are some Schoeneberg bars?
The neighbourhood is full of venues. But here are some addresses:
-Get off at Nollendorfplatz U-Bahn. 10pm is a good time to go out here. Heile Welt is a popular place for cocktails. If you don't like faux fur, then try Prinzknecht. At Sally Bowles, try their eponymous cocktail with Lillet. For Leather and Rubber Bars, Mutschmanns (leather bar), Woof (for bears), Die Scheune (fetish-oriented). Connection has dance and cruising downstairs. After hours at New Action (cruise bar) or Bull (cruise bar, always open) are for the brave only.
*
NEXT PAGE: TO GO TO THE NEXT PAGE OF THE NEEDLE'S QUEER GUIDE
INDEX:  TO RETURN TO THE INDEX OF THIS GUIDE