*You are reading the Needle's Queer Guide to Berlin.
There's a lot of queer action happening in Friedrichshain. For a while, it might have just been considered an extension of the Kreuzberg scene. But that's changed as Friedrichshain has become the endpoint of the 'Technostrich' ('Technomile', or 'Techno-strip').
What is the Strip?
The Technostrich is a constant back and forth of partiers across the Oberbaumbrücke (the red-brick towered spy-bridge) between Schlesisches Tor U-1 station and Warschauer Straße U-1 station.  The 'strip' continues into the RAW Gelände off Revaler Straße and Boxhagener Platz in Friedrichshain.
RAW is a former East German industrial complex that has been filled up with dozens of bars and clubs. It used to be rough around the edges, but now it is very much discovered by tourism and even has a (straight) bar with a swimming pool now. At another you can watch movies and go climbing at the same time. The movement across the bridge is a spectacle, especially on the weekend. Some will love the energy of so many young people out in the city, the rush of humanity. Other people will hate the mobs of drunk or drugged tourists careening between the buskers. It probably depends a little on your mood.
Is it very straight?
Yes, but there are plenty of gay options along the busy Strip as well. Right in the RAW Gelände is Zum Schmutzigen Hobby ('at the filthy hobby house'), a chirping, cheerful, youthful bar in a former fire station. Last time I passed by 'It's Raining Men' was blaring from the inside and a queue of a dozen hot Italian and Spanish tourists was waiting at the door to get in.  Chantals House of Shame, with its mix of drag and dance, is also in the Gelände at Suicide Circus weekly on Thursdays. Both venues moved to Friedrichshain from Prenzlauer Berg after the gay scene dried up there.
Into the Friedrichshain streets behind, there are number of neighbourhoody options: Himmelreich is a queer bar, very popular with the lesbian crowd. It has a great terrace in summer for people watching. The rough-around-the-edges  Grosse Freiheit 114 (with convenient but uncrowded darkroom) is an old-timer gay bar. Opposite Warschauer Str. U-Bahn is Monster Ronson Ichiban Karaoke, a one-of-a-kind queer karaoke location with 'multi-sexual box hopping'. And young "Ossies" like the cheesy but fun dance club Die Busche (or Club B, very young crowd): they have German Schlager/ kitsch-pop nights. The strip is walking distance from many of Berlin's mega-clubs, such as  Berghain (we'll get to it), and to About:Blank, which intersects with the Kreuzberg-Neukölln scene.
How old is the crowd?
The crowd of the Strip––at RAW and the surrounding streets, such as Simon-Dach-Straße–- tends to be on the younger side (20s). Friedrichshain is full of student digs. Restaurants tend to cater for that market and are generally open late, inexpensive (lots of stand-up, take-out), and many suffer in quality. The students mix with the 20-something tourist influx, looking for industrial spaces that fit a certain stereotype about Berlin. One could be cynical that the RAW Gelände and surrounding area have been 'discovered', but if you are looking for a frothy, busy night out with a big-city feeling, and a hint of the industrial, then you won't be lonely here.
*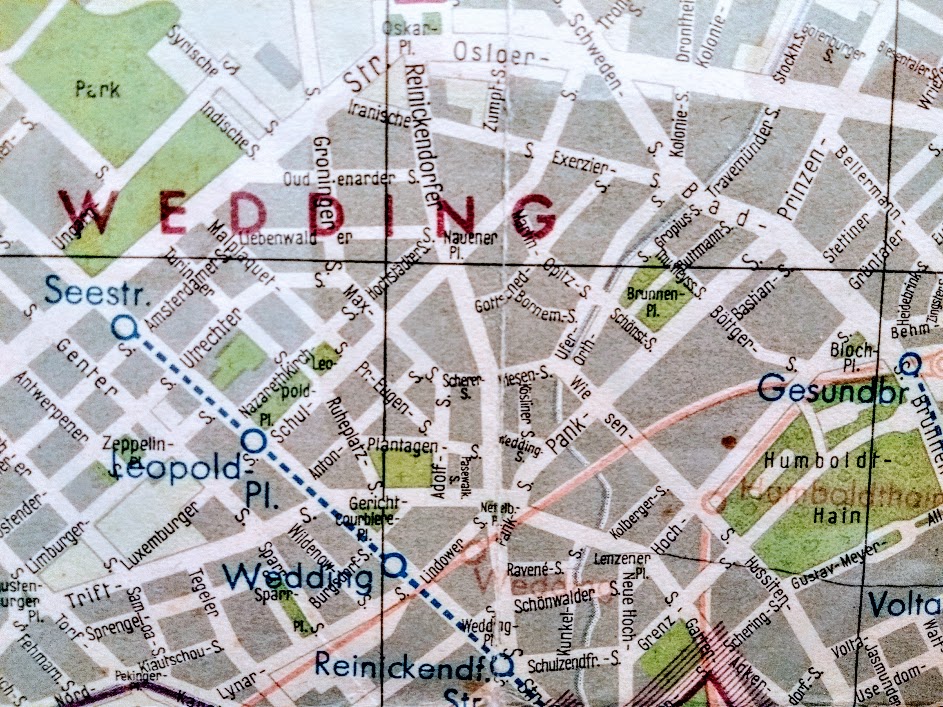 Venues Farther Afield
Are there sweet little neighbourhood bars elsewhere?
Yes, in upcoming Wedding: there's a lovely little bar called Moritz, which feels very old-school arty Berlin.
Prenzlauer Berg: The gay scene pretty much dried up here except for a few sex lairs, but Marietta has a once-a-week party on Wednesdays.
Mehringdamm: In this corner of Kreuzberg, there are a number of neighbourhood bars, such as the campy Rauschgold and Melitta and Drama.
For something off-the-grid and arty, try Sounds, located in an industrial lot, which is something of a secret/ insiders' tip.
*
NEXT PAGE: to go to the next page of the Needle's Queer Guide.
INDEX:  to return to the guide's index.