The Hipster Library: The Jacob-und-Wilhelm-Grimm-Zentrum
I've wanted to make love with you so many times, but I'm always waiting in line.
Everyone wants to put their things inside of you. That's why it takes an hour of waiting to get an available locker.
Once I'm inside, we know it should be great, if it weren't that you'd invited so many other people.
Everyone wants to be seen with you, that's why all the desks are occupied, even if no one is using them. Little cards with clocks on them say, 'I'll be back!' Meanwhile, they walk your corridors. I walk them too. For over an hour, looking for somewhere to sit down.
I finally end up on the floor, with my pile of books, getting a cramp, watching the young and beautiful cruise each other in the stacks. They've obviously spent as much time getting ready to be seen here as they would to go out to a club. What a scene!
Who are they looking for? They're must all be looking for you! Where have you gone? I'm not sure they can find you either.
So, instead, they end up glaring at each other, wondering: is he more beautiful, has she got a better chance? Or they end up outside, in front of your facade, staring up, drinking caffè macchiato, consoling each other for having wasted so much time inside.
People like to talk about you. Especially the dejected. So, inevitably, there are lots of rumours floating around. One is that you are a research library.
Don't worry, your reputation is safe. I can easily protect it.
I've been told there are 2 million volumes in open shelving, but when looking for books on German cinema in the twenties, in German, I can only find a few dozen volumes in the catalogue and on the shelves themselves only as many as I can carry in two arms.
2 million sounds like a lot, but you claim only half the books held by the King County Public Library System in Washington State. If someone were looking for a research library, they wouldn't come here, they would go down the street to the Stabi with its over 11 million volumes. If someone actually wanted to borrow a book here, they would be crazy to wait forty minutes in a line manned by one punishingly slow book-stamping official.
Your patrons obviously can't even read: you don't even call yourself a library, you're a Zentrum.
But what a Zentrum, opened in 2009 as as central (library!) site of Berlin's Humboldt University. You are emblematic of so many of the changes in Berlin-Mitte. You are beautiful, you are cool, you are into contemporary design, and you are full of hipsters. You remind me of an arty magazine shop I go to on Augustraße. Being in you just looks so much better than going to a library. So I forgive that you have some trouble performing.
Yes, there are quibbles, I'm not the first one to harp on them. Let me enumerate and risk repeating myself:
Lockers: it doesn't matter whether you can actually access the reading rooms, because of the already mentioned locker situation (much-criticised in the press: you are obliged to leave your things in a locker, but long lines develop because of their paucity. Users end up jumping in case one is liberated, or look deflated as someone arrives simply to fetch an apple from their stowed bag).
Workspace and Collection: Once inside, as I mentioned too, finding a workplace, or books, or expecting, given all the trouble, that people are actually working inside, is a vain hope.
Atmosphere: I feel funny blaming you for how people use you. But in the end, you really do feel like an undergraduate student centre… which might explain your name.
Ah, now I understand. You're a Studentenzentrum!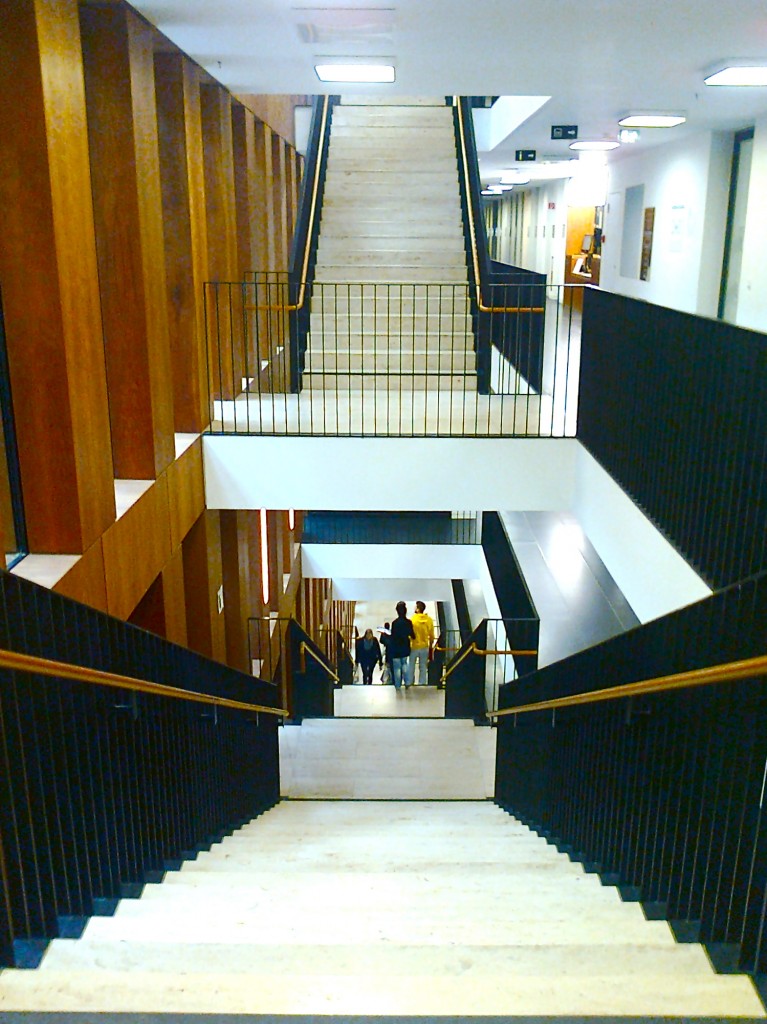 You are decked with Jura marble on the outside, with tall thin windows of minimalist simplicity, supposedly evocative of books on a shelf, but which in fact remind me… of the narrow severe windows on the Nazi Air Force Ministry. OK, this isn't cool at all and anything but beautiful. No doubt it's an unfortunate, inadvertent, quotation. Especially given how the Nazis felt about most literary production…
But inside things improve. At the library's heart is a terraced reading room, warmed by cherry wood, with a glass roof. This is glorious. But it's also a glorious waste of space: all I could think about, when looking for a work space, was how many additional floors of desks you could have fit in the airy overhead.
Then again, my mistake, to think functionality should come before aesthetics. Even the library has commented in the past (a quote on the library site which was presumably taken down after Wikipedia noticed, thank you Google Cache) on how difficult it was to ensure the building's formal symmetry despite its functional aspects.
But what function? I've been here three hours, almost didn't get a locker, didn't get a workplace, and couldn't find the right books. And you didn't even give me a kiss. Maybe I'm just acting up, a jilted lover, and, by writing this torrent of criticism, this gripe, I'm getting even.
Just let me tell you: if you see me in the halls of the Stabi instead, I hope you're jealous.