Revolt on the Admiralbrücke, Kreuzberg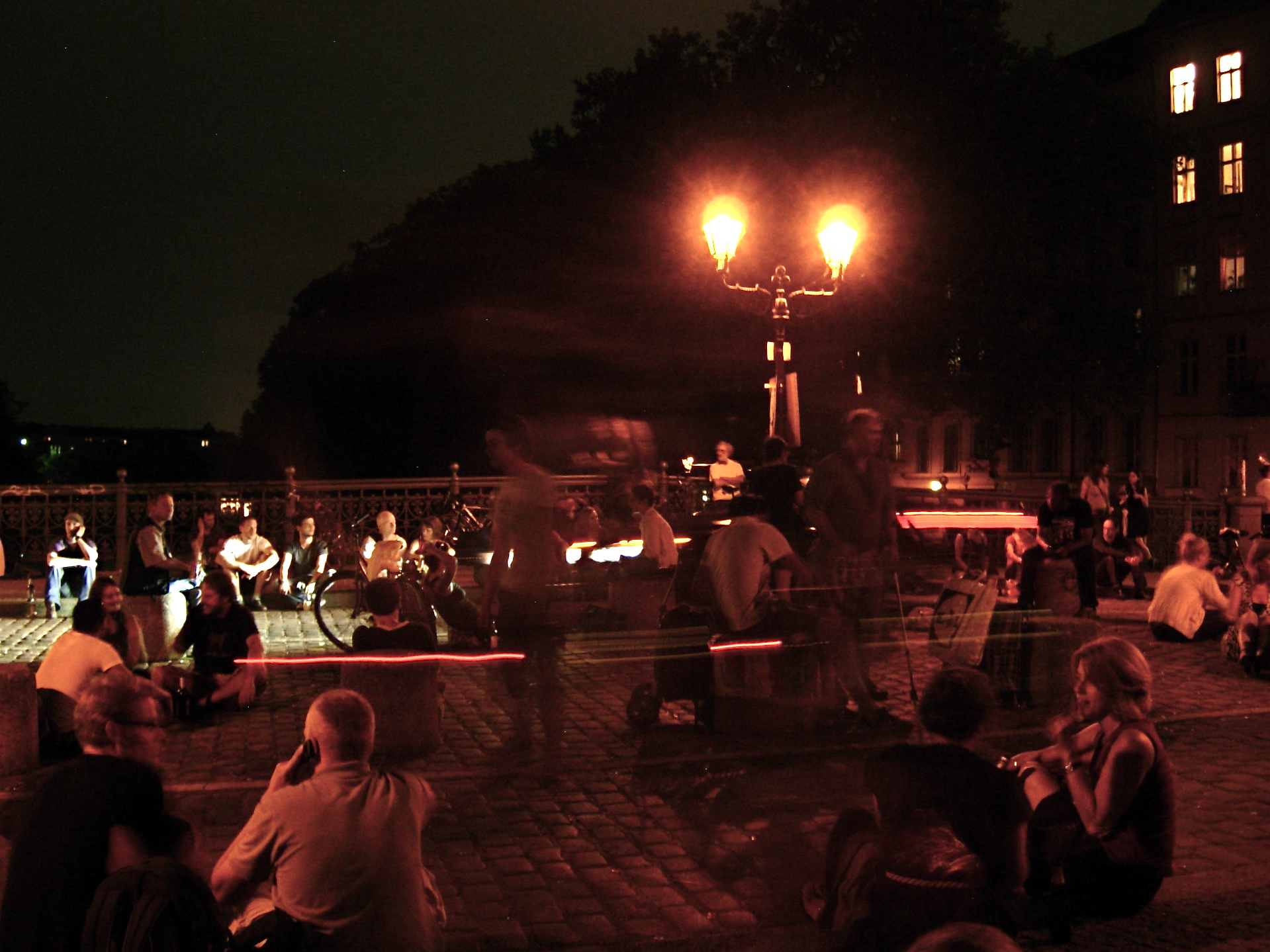 It's a Wednesday evening on Kreuzberg's Admiralbrücke in summer, and there must be 200 people here, drinking store-bought beer, smoking, chatting quietly, listening to the Polish string band playing out of tune.
The bridge is only about 10 meters wide, and three times as long, a sidewalk on either side, and a central strip bordered with bollards. Plenty of place to sit: either right on the pavement, where innumerable beer bottle caps have been crushed into the spaces between the cobbles; or on the curb, cars struggling past, their wheels at eye level.
Here young people are mostly in their twenties or thirties. They converge with bottle collectors, dumpster divers, a vagrant surrounded by duct-taped Lidl bags, a few parents with kids, young girls rehearsing from a script. There's the ringing of bike bells. Couples lean forward to hear each other better as the bollards they sit on are just a little too far apart. Two Turkish teenage men pass, arm in arm, but it would be a mistake to read too much into this. The activity occurs under the dim gold light of the candelabra lampposts, the dark of the trees behind, the imperceptible flow of the canal under, the penumbra broken by the bright lights of the occasional car.
The bridge has become a sore point with the neighbours, who complain of noise and have done their best to shut the whole phenomenon down. At 22h the police will go from group to group telling them it's time to leave. I wonder how they will react. I wonder too why they have chosen this place, what it is they like about hanging out on a dimly lit bridge at night. Well, why not ask some of them?
Two women in their late forties or early fifties, who might be of Turkish origin, live just down the street. They're seated on the curb on cushions they've brought from home, a bottle of wine between them.
'It's our first time here. We've seen so many people out, so we thought we'd try it too. But they are mostly young people, and we don't feel like we belong. We wouldn't do it again. There are too many tourists, they're really changing the neighbourhood. I understand why the other neighbours don't like it. I wouldn't want this just outside my windows either'.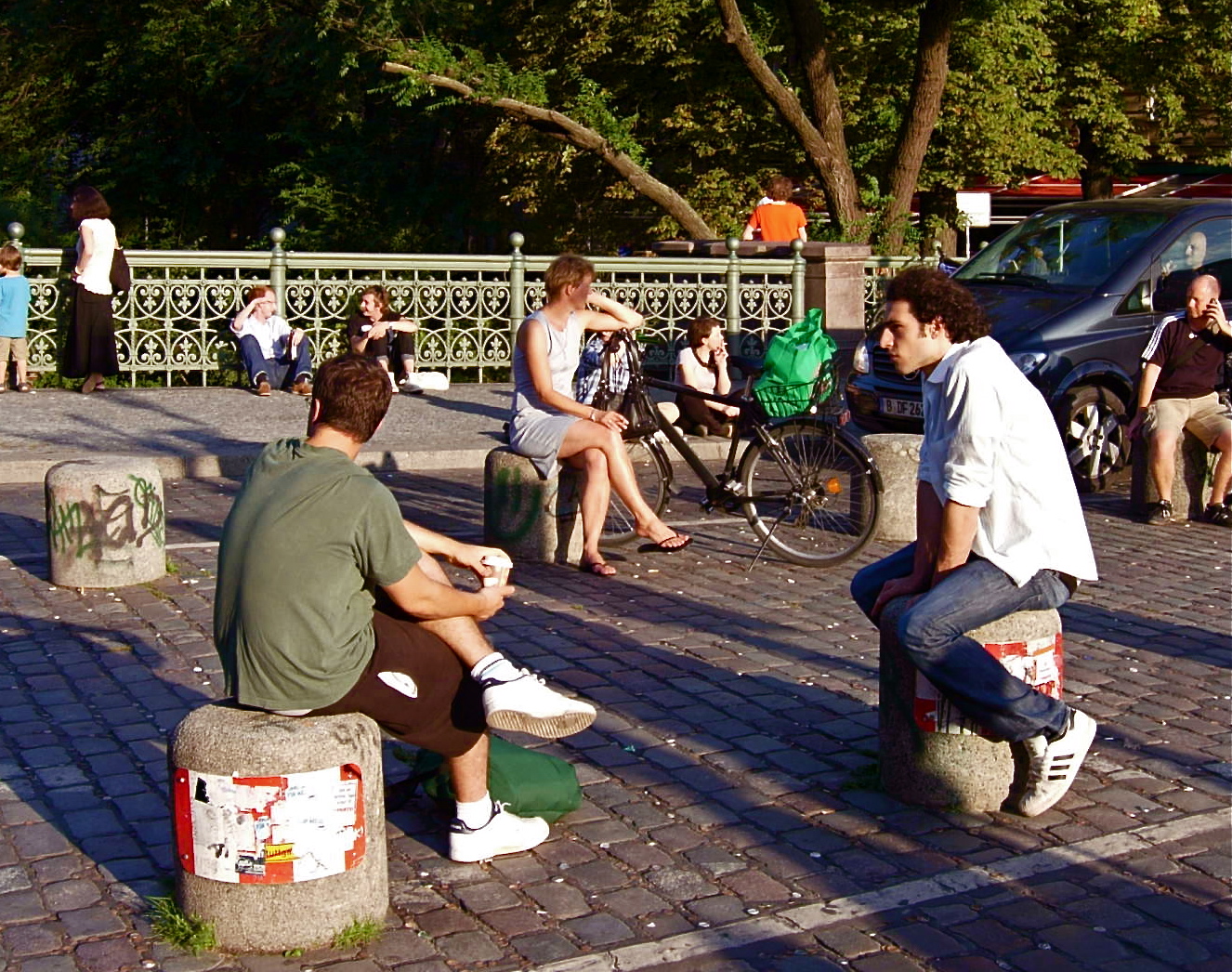 A young woman in her twenties nurses a beer against the bridge railing, waiting for someone.
'I like to meet friends here in the evening', she says 'It's like an Italian piazza. Finally there is a place where we can sit together. I don't want to resort to clichés, but Germans don't usually sit outside like this, they are too orderly. But it's dynamic here, I get a warm feeling. What a beautiful place'.
An old man, who speaks only a little German, passes by us. He has a crutch, and is collecting bottles, stopping and asking for them as soon as he sees someone has finished.
I ask him how his night is going. 'Bad people here. Not enough bottles.', he says, curtly.
A couple, a German man in his late twenties, a woman visiting from Nicaragua, sit on the opposite side of the bridge, their arms around one another.
'Sitting at night on a bridge in the dark in Nicaragua would not be safe', she explains, 'It would attract the wrong kind of people. I love how cool and relaxed it is here'.
Her friend shakes my hand until it hurts, 'I came here because I heard the neighbours were raising a fuss about the noise'. He stops, the crowd is barely audible, 'And it's so noisy!'
'Think of this, thirty years ago this was a hippy neighbourhood, and these Che Guevara people were protesting and throwing stones. Now they call the police because of the noise. A left-wing militia with no guns, just telephones! Bollocks! I'd really like to piss off these people. These hippy hypocrites!'
For a moment I think he might get really angry. The police cars have come around to size up the situation. It's almost 22h. I wait for the revolt.
Someone takes another deep drag and the crowd disperses silently, just like the smoke.