Musing about Nazi Exiles in Mexikoplatz Station
'All the streets around here were named after South American countries, so that when their soldiering grandfathers return from exile, they'll feel right at home', jokes James. On Limastraße, there is an immense residence in a faux-medieval alpine style, that might appear in the dreams of an errant SS-officer slumbering in the Andes. There are plenty more villas on Argentinische Allee, in a part of Berlin where many high-level Nazi officials lived, like Göring. World War Two is on my mind, because I am waiting to be picked up to give a history lecture, and because I just rewatched Eytan Fox's film, Walk on Water, where a Mossad Agent infiltrates a German family to eliminate an aged SS Officer hidden in a home in nearby Wannsee.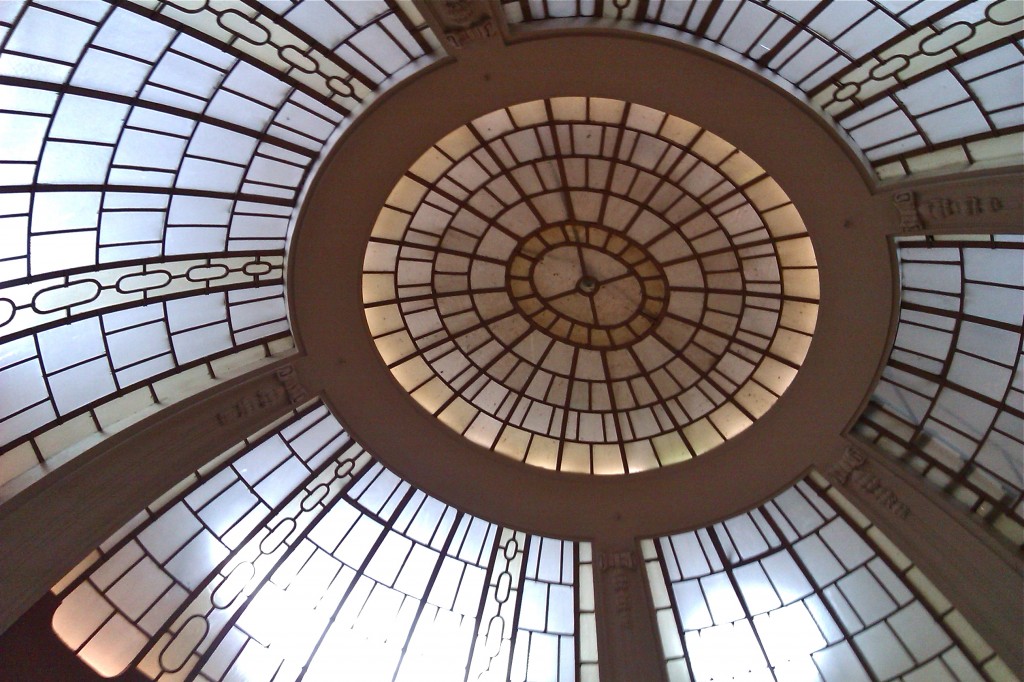 But when I look up, waiting in the train station of Mexikoplatz, I see a 1904 art-nouveau dome, and feel it's a mistake to reduce neighbourhood life to a couple of its infamous inhabitants. German history is longer than the 13 years of National Socialism. This station existed decades before. The S-bahn train rushes upstairs, past the now verdant lakes and comfortable bourgeois avenues of Berlin's Old West. I have a little time  for musing around the flower kiosk, to visit the greengrocer whose produce, placed directly under the dome, seems to illuminate it with its oranges and strawberry reds.
There are details easily missed here: around the dome are a series of shops: a baker, a butcher, a wine shop, the florist, and pub. I wander around the fruits and vegetables and feel ignored as their keeper busies himself with his mobile phone. In the butcher's, I discover a small canteen, where house painters and carpenters, perhaps with jobs in the neighbourhood, are loading up on calorific breakfasts in their overalls for the hard day ahead. They consume plates of sausages and Schweinbraten, with boiled potatoes and brown sauce, and, since it is only 8:30 am, they wash it all down with cups of black coffee. I've still some time to wait, so I order a plate of hot Wieners, hope the workmen don't think I'm checking them out, and wonder if  I've smeared mustard all over my face.
I see the pub owner is putting out chairs on the square in front of the station. I ask him how long the pub, with its extremely narrow curving interior, has been there. He explains gruffly that the space was originally used as storage for rail cars, which accounts for its narrow width, but that it's been a bar since 1978, and he's the seventh owner. An old man sits alone at the curved wooden counter, a large beer glass empty in front of him. I order a coffee from the baker and sit in a wicker chair and think I've entertained myself too successfully and for way too long in this little train station. And what is more worrying is that I could easily spend the whole day here, busying myself between the different spaces under the dome, with breaks to read my book in the sun.
Maybe I want to stay here, because I find all these details of everyday life comforting. The man eating his worker's breakfast isn't thinking about Göring. The pile of lemons doesn't know about what the neighbours did. No one around me was probably even born before the war. It's all wonderfully normal and oblivious to the horrors of the 20th Century. I like it because it reminds me not to reduce Zehlendorf, Wannsee, Dahlem, and nearby neighbourhoods, in 2012, to their history as the erstwhile commuter residences of the Nazi oligarchy. In fact, life is pretty nice in Mexikoplatz.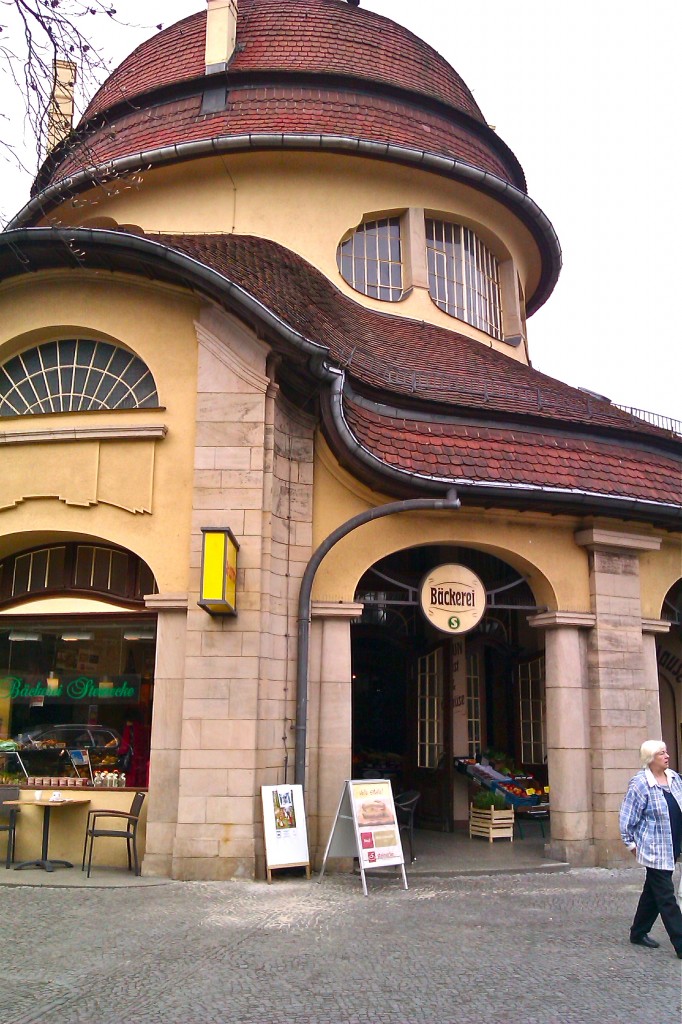 Then I hear again the squeal of the rail line upstairs, and can't help but think who might have stood on those platforms. I am haunted. What is wrong with me? There's the beep from an arriving van, they are my hosts who are picking me up to speak to high-school students about National Socialism, the Rise of Hitler and the Holocaust. I can't stay in Mexikoplatz, sitting in my chair in the sun, still in this place of passage, however much I'd like to keep my eyes fixed on the vegetables.
I am obliged to give a lecture.