The Other Face of Kreuzberg: The Werner-Düttmann-Siedlung
On Fichte and Körtestraße, just up from Südstern U-Bahn, you might pass by an elegant wine shop, a Michelin restaurant or an organic market. Just a block farther, past the pre-war buildings, on Urbanstr., you reach a very different face of Kreuzberg: one of poverty and social exclusion, the Werner-Düttmann-Siedlung, a social housing project built in 1982. In few places in the city is the contrast of micro-climates so stark.
The first, superficial, impression is of veiled women and hundreds of children living in crumbling concrete block housing. The 3 000 inhabitants are generally poor and traditional in outlook. Many came from religious areas of rural Lebanon and Turkey (80% of them have an immigrant background), looking for a better life in Germany. Perhaps their lives have improved, compared to what they had in Eastern Anatolia, but 90% still subsist under the poverty line according to the city.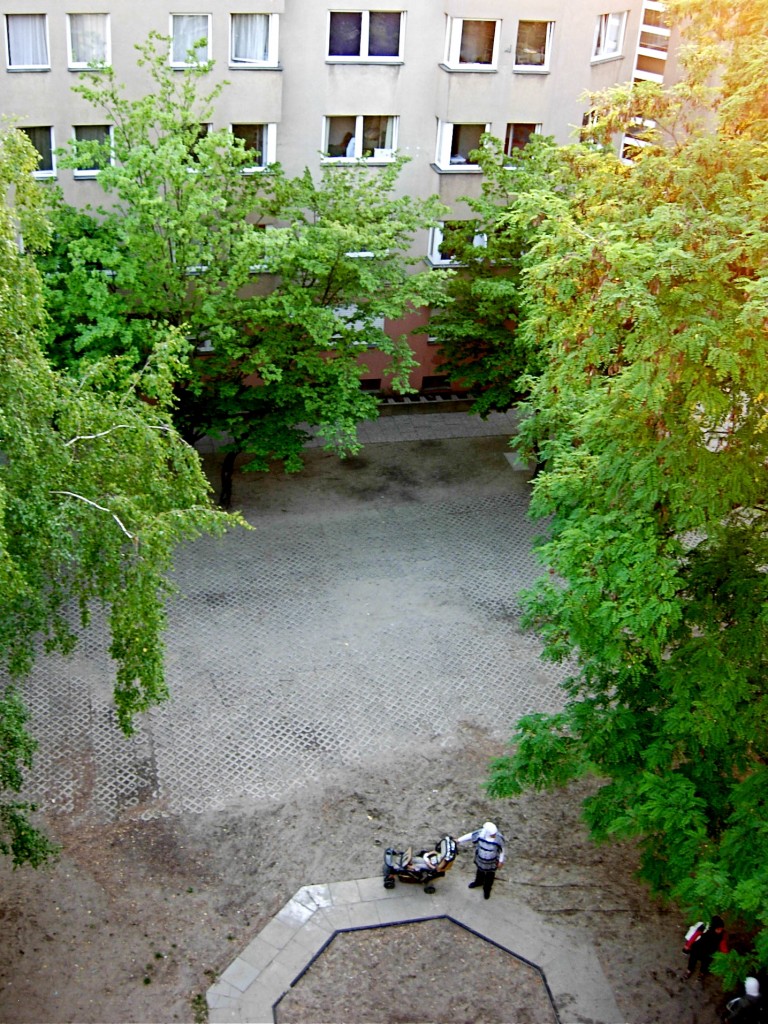 The sounds of birds, and those of children, mix in the yards between the blocks. 1/3 of the population are minors, and they run riot. There are not enough rooms for them in the households, causing families stress. Let loose between the buildings, with little supervision, they speak Arabic and Turkish with one another, not German. This is because the kids are initially educated in the day care and kindergarden located on the premises, with other children whose parents might not speak German. The challenges they will face in the German education system are not hard to imagine.
Meanwhile, gentrification encroaches. Some of the apartments in the complex have been renovated, and young professionals who want to live in Kreuzberg, and find the housing market here tight, are moving in. Well-heeled hipsters pass long-time welfare recipients in the graffiti-scrawled hallways, they stand together suspiciously in the elevators. Gay couples are careful to keep their curtains closed at night.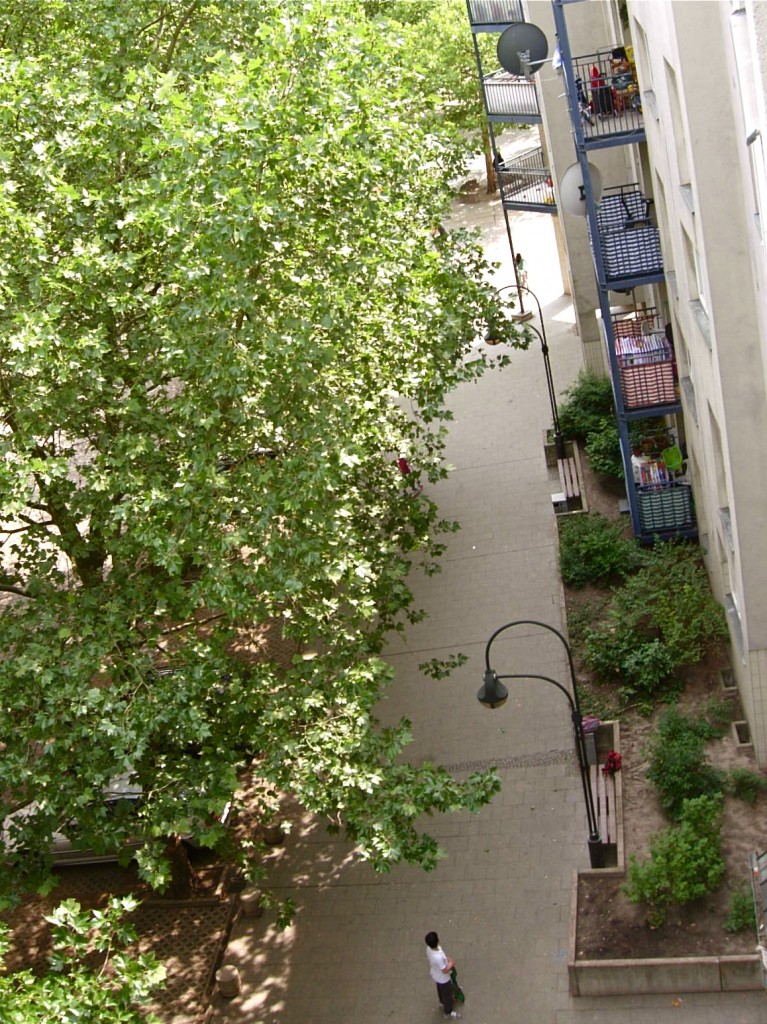 And yet, walking into the complex in summer, a different impression emerges. The side roads weave between the blocks with their balconies, some blooming with flowers, or sprouting satellite dishes that link to separate cultures.One encounters groups of women sitting on park benches chatting. Men laugh, and call to each other from windows. There is a vivaciousness that is refreshingly removed from the stereotypical German reserve. There is green, trees overhang the boulevards, and there is a community center with computer terminals; one has the impression that the Siedlung is doing its best for its poor. And the complex is reasonably safe, shockingly so for someone used to inner-city crime in America.
But there is still aggression and frustration.
It's most visibly taken out on a handsome restaurant located adjacent, on Urbanstraße, a visible sign of the neighbourhood's gentrification. Its roll-down grate is the victim of dents, its sign is cracked, vandalised. Children run into the restaurant, race between the tables, and scream obscenities at the wealthier, mostly 'German' clients, then rush out laughing.
They do this partly for fun. They do it partly out of an understanding, not yet articulated, that soon enough they will be unheard.