The U55: The Shortest Subway
It has only three stations, it took 14 years to build, it connects a distance that can be easily covered on foot, and it cost 320 million Euros to build. This is the U55.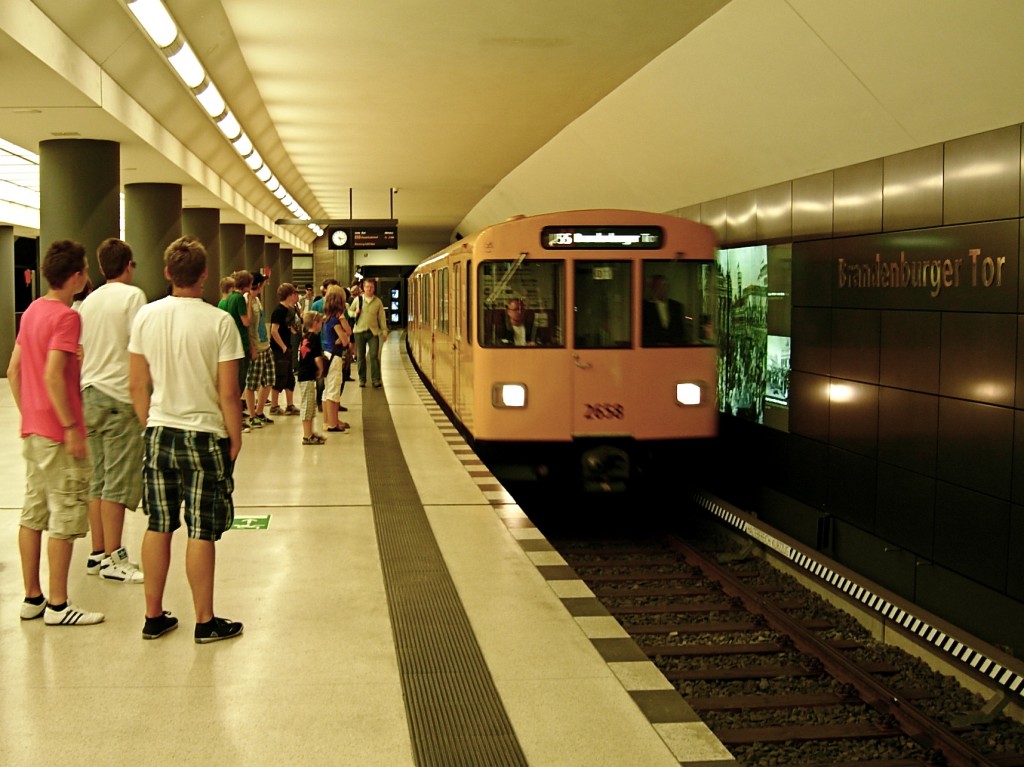 I must confess I find the impracticality of the U55, the ridiculousness of its enormous cost, the cleanliness and emptiness of its stations, endearing. Since it is not very useful (even the North-South S-Bahn can be reached more quickly via Friedrichstraße), it's hard to think about the U55 as public transportation exactly. It is like a corporate artwork, an installation commissioned for the nearby government buildings. Or perhaps one can think of it like a fairground ride that lasts only 2.5 minutes, one that is gentle enough for even the most sensitive of children, or the very elderly. There is a refreshingly relaxed atmosphere on the train, with many people riding out of curiosity rather than out of need. 
Now I should come clean and say that the U55 is only a small piece of a much larger project that is underway to connect the U5 line in the East to Berlin's central station, Hauptbahnhof, in the West. More specifically, currently under construction is an extension from Alexanderplatz, the current U5 endstation, to Brandenburger Tor, the current U55 end station. The line will roughly follow Unter den Linden, connecting many of the major sites of former East Berlin along the way (such as City Hall, the Museum Island, and the commercial area around Friedrichstraße). Note that the extension should be ready by 2017, although in Berlin these things always seem to take longer because of lack of funds.
And so, the U55 in its current form will be with us a while longer.
The longer it takes, the better to my mind. Berlin's fascination has been that it is in transition, both ideologically and physically. I want to extend Berlin's status as a city that is rapidly changing. I know that the division of East and West is painful for many Berliners, but now that so many of the cranes have come down, and the building sites are disappearing, there is the tradeoff that we might end up living in a place that looks the same day after day, where the evidence of the division has completely disappeared. The real cynics say:  just wait, close your eyes and you'll wake up in Frankfurt. This attitude is alarmist, but shows the level of fear. We all dread the day when Berlin is 'finished'.
I will ride the U55 until then, and not because I want to go anywhere.