A Tale of Two Pastries on Boppstraße
One of the most obvious signs of changing times in Kreuzberg is the emergence of a new generation of tea and coffee shops.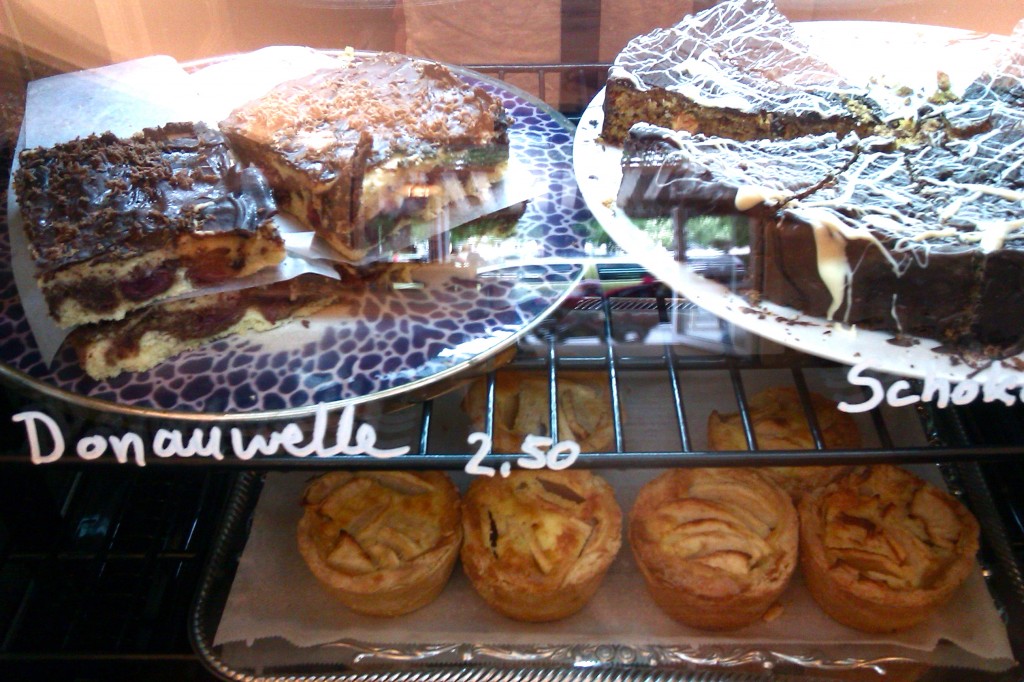 Kasuka, which opened last week on Boppstraße, on the south side of Hohenstaufenplatz, just off of Berlin's main Turkish' shopping street, Kottbusser Damm, is just about everything you would want in a local hangout. The coffee shop is named after the owner. 'Kasuka' is in fact a Japanese diminutive which means 'faintly' or 'slightly'. The place is eponymously intimate small, subtly decked with fresh-cut flowers.  The pastries are freshly made on site, like the Donauwelle, with cherries in vanilla-butter creme and chocolate. It packs a not so slight punch.
The arrival of Kasuka follows on the opening on the corner last year of the English tea shop Hudson's, and the elegant Kaffeebar on Graefestr. where Macbook airs outnumber coffee cups.
(I am embarrassed to return to Kaffeebar because I have successfully started two fires because of their atmospheric low candles. Once my cotton bag burst into flame, and another time a book. Both incidents required heavy ventilation and emergency measures, once in mid-winter which brought the temperature of the already cool interior to uncomfortable new lows.)
Meanwhile, across Kottbusser Damm in Kreuzkölln, the number of cool new places makes you buy even more shares in Apple. I can't even begin to describe what has happened to Weserstraße. Everytime I walk down that street, around the corner of Reuterstraße, there is a new opening. Many nearby locales cater to a growing North American and English-speaking population, like Katie's Blue Cat which calls itself a 'Kreuz-English' café, or Sing Blackbird on Sanderstraße whose cosy tea shop run by a New Yorker is an extension of a clothes-design workshop. Meanwhile, the old Arbeiter-Samariter Bund Neukölln office (a solidarity organisation to help the weak) on Friedelstraße has closed to make way for Bullys Bakery.
Now what you are expecting me to write now is that these cool hangouts are forcing out local business and ruining the neighbourhood, the way the housing boom here is. Do they come at the expense of traditional Turkish eateries closing down? No, this is not the case.
Imren, an institution of a Turkish grill, also on Boppstraße like Kasuka, recently moved a few doors down the street to open in a much larger space. It's a fantastic eatery with much longer lines for soups and kebab and durüm than you can find in any of the coffee shops. I am happy to wait in line here and just hope I can get a table.
The same can be said, for example, across the street at La Femme, which recently opened a Pide take-away extension, along with its shisha bar next door. The take-out is a godsend, because the lunch hall is so packed it's a relief sometimes to cross the street and eat their excellent simits or milk rice in the park instead.
These businesses are flourishing.
In fact, many of the clients of the Turkish eateries are the hipsters who are the would-be clients of the new generation of coffee shops. At most of the new coffee places with their obligatory vintage furniture, wallpaper, candlelit interiors, and retro lamps, it's not at all difficult to find a table. An unexpected story of gentrification in this corner of Kreuzberg and Neukölln is whether new hipster business will be able to compete with the low prices, lack of self-conscious pretension, and good food, of the traditional eateries of Turkish Berlin that have attracted so many people here in the first place.
Your baklava and revani might not need to make way for your scones with clotted cream after all.