Markthalle 9, Kreuzberg: The Puzzle of Street Food Thursday
A recent phenomenon in Kreuzberg are the crowds piling into the old Markthalle 9, an unrenovated market hall of more than 120 years located on Eisenbahnstraße near Görlitzer Bahnhof. On Thursdays, they come for the street food fair (17h-22h) and on Fridays and Saturdays for the artisanal food 'Wochenmarkt' during the day. Street Food Thursdays has only been around since this past April, but it's certainly already the most popular weekly culinary event in Berlin. It also is part of a trend that one might call the 'foodie-ing' of Berlin: the rise of a great number of excellent and inventive restaurants here that's putting Berlin on Europe's food map.
I went with some friends last Thursday for a particular reason: because we were very excited to see the chefs of remarkable Hartmann's (an acclaimed and much reviewed Michelin star restaurant on Fichtestraße that uses local ingredients) opening a booth.
But a little first about the history: the market is 'number IX' because there were fourteen such market halls located all over Berlin at the end of the 19th-century. Some were destroyed in the Second World War, others have been transformed into crass commercial spaces, like the beautiful old Markthalle VI on Ackerstraße which was a Konsum during the GDR period and is now a mass market supermarket (No. XII on Bergmannstraße meanwhile has been overly renovated, stripped of its once period charm).  Markthalle IX is a survivor of both histories: the war and the rise of chain food stores. The cavernous interior was mostly empty––save a couple discount retailers in the corners––until recently when a project group began (in 2009) drafting its creative plans.
Now, Markthalle 9 is one of Kreuzberg's institutions, still a place for Berliners with few tourists. There's plenty of good food, and some good stories, here. There are the Italians at Big Stuff who lived in New York and fell in love with the barbeque culture of the Southern States, and brought their immensely popular smoked meat shop to Berlin. It's actually open every day, and if you are hankering for ribs and beef brisket, you'd better go early as they tend to sell out.
There's your German fare: Spaetzle sold from a van parked inside. But then there's also a taco stand, Roman supplì, a New Zealand meat pie table, a Thai kiosk with good papaya salad… what's notable is that those running the stands are not only international, but also those buying the food, and the average age must be 25-30. The Hall is a real testament to Berlin as an international youth magnet.
But the most popular stand is clearly the Taiwanese steamed bun shop, Bao Kitchen, with a remarkable queue for their pork belly bao.
They too tend to sell out the matter of a couple hours. Each bao is 5 EUR, and I counted up the number of people standing in front of me in line and from them alone they will have pulled in a couple hundred euros.
Nobody said this market was for budget eats. Nor did anyone say it wasn't claustrophic or that it wasn't difficult to find a place to sit to enjoy your plate. There's definitely a buzz about the place, but it's not somewhere you come to linger over a quiet meal with some friends. You come for the event, with some cash in your pocket, and a hankering for the crowd (a lot of hipsters, so come wearing repellent).
And what of Hartmann's, our Michelin phenomenon who brought their haute-cuisine to street level last week? I saw them at the end of the night carrying their trays, still almost full of food, out of the market hall. There was never a queue in front of their stand and the well-dressed chefs looked bored and frustrated. What happened?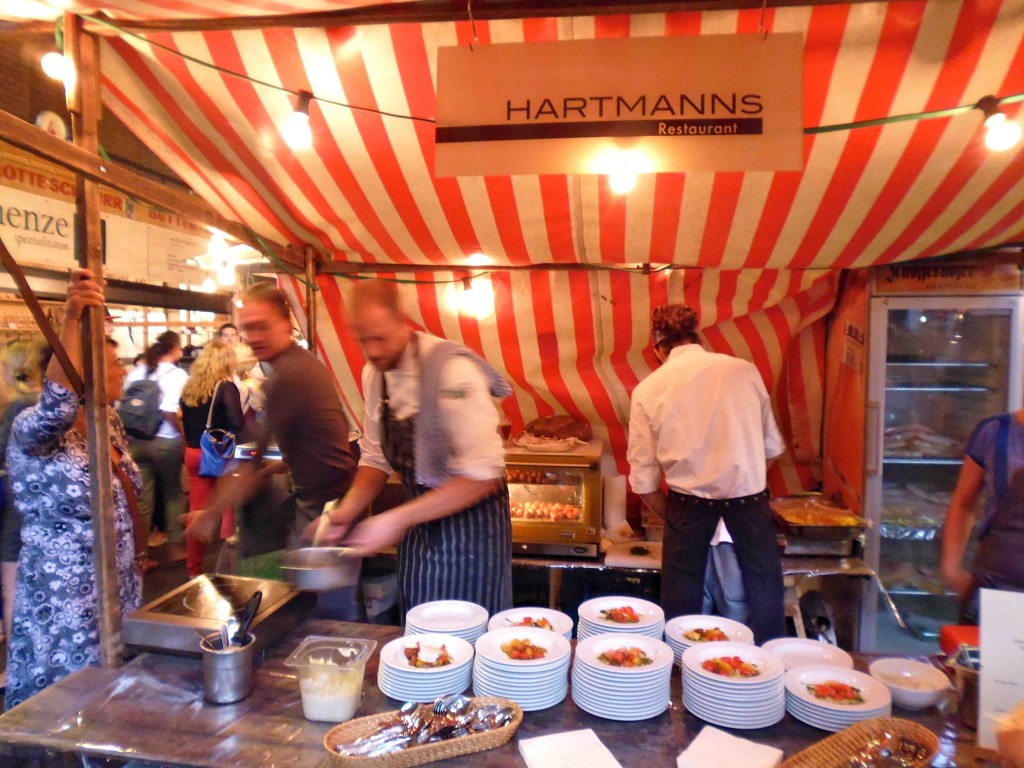 Was it the 2.50 EUR deposit on the plates? No, the (generally bad) wine sold in the market generally demands a 3 EUR glass deposit. Was it that their plate was 7.50 EUR, more expensive than the 5 EUR demanded elsewhere (such as for 3 soggy tacos?)? Or that you couldn't find a place to sit down with their awkwardly big plate? Or that the crowd just hadn't heard of Hartmann's? Perhaps. Was it that they were serving two sorts of cod with tomatoes, basil and caper mayonnaise? Plenty of people like good fish––certainly the smoked fish stand around the corner was doing brisk business––but maybe meat sells more easily. The cod, by the way, was delectable––delicate and infused with the complex flavours of its broth. Is it a revenge of populist tastes on a high-ranking restaurant, a kind of public spurning? Or was it that Hartmann's simply isn't street food, and not what people had come for? This is the puzzle of last week's Street Food Thursday.