The Snowden Premiere in Berlin, and Why Citizenfour Was Made in this City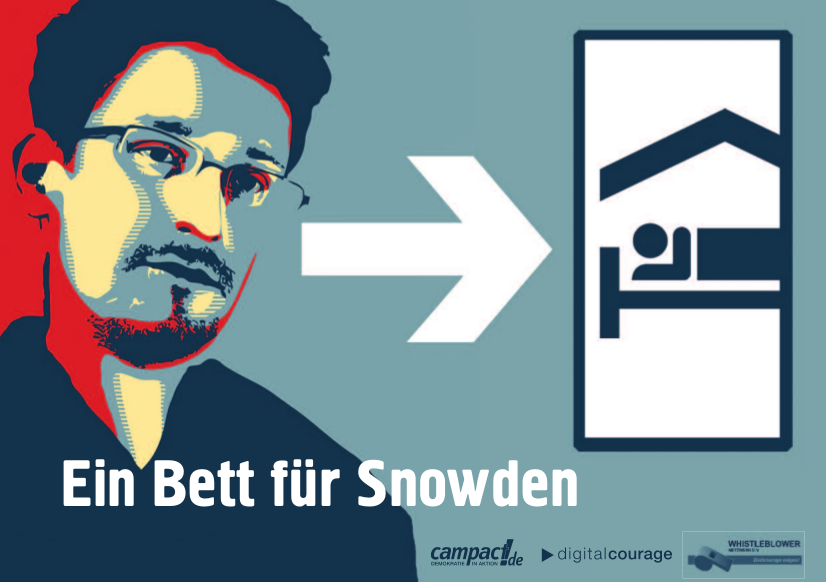 Tonight was the Berlin premiere of Laura Poitras's film about Edward Snowden, Citizenfour. Before the director was invited to the stage, I leaned over to my friend and said, 'All the NSA needs to do is detonate this building to get rid of a lot of their problems'.
And, it's true, we've already identified––the unofficial snoops we are––a ton of public figures in the audience who have been important in the Snowden story: Green politician Hans-Christian Ströbele who met Snowden last year in Moscow and said he was willing to come to Germany; Kontatin von Notz, also of the Greens, on the Germany Parliamentary Committee investigating the NSA spying scandal; the chief editor of Der Spiegel, Wolfgang Büchner who bravely published many of Snowden's revelations; Sarah Harrison of Wikileaks who accompanied Snowden from Hong Kong to Moscow; and the hacker and security wizard Jacob Appelbaum. Add to them scores of Berlin's enormous tech community involved in the development of the free software that makes encryption possible; and the entire film team, not least among them the director of Citizenfour, Laura Poitras. She is one who Snowden originally contacted to meet him that fateful day in June 2013 in Hong Kong, with journalist Glenn Greenwald. The documentation of that meeting is the sensitive core of her new film.
In the film, Laura Poitras remains off-camera, and before the sparkly curtain of Kino International, the GDR-era cinema on Karl-Marx-Allee, which was the venue for the premiere, she certainly didn't look like she wanted to be on stage. She appeared held back, against her will, for the Q&A session by the perky moderator. George Packer writing in the New Yorker observed Poitras's eyes, and their 'habitual look of alarm, as if she were staring at something from which she wanted to escape'. I noticed that too, as she stood before the spotlight. I kept asking myself, how can such an introvert have done so much remarkable overtly political work? What has she managed to overcome? But later at the downstairs reception, she seemed remarkably more relaxed, like the pressure had been lifted, in the comfort of a ring of close collaborators. The scared look in her eyes––from having been pursued, watched, harassed at borders? who am I to speculate––seemed remarkably diminished.
Berlin, her home for the past two years, has provided her with a relative safe haven. It was this question I came to the premiere asking: what role does Berlin play in the Snowden story?
Poitras opened the film here by answering that question: thanking Berlin, and saying Berlin was very much a part of the film. She came here to make it because she was being harassed by border officials on travelling into the United States, after being put on a watch list, and was worried that she would have valuable footage confiscated. Germany provides privacy protections that the US does not. She spoke too to the importance of showing this film so close to the anniversary of the fall of the Berlin Wall, and in a movie theatre in former East Berlin, which was once one of the most surveilled and least free places in the world.
I think it's precisely this history of Stasi surveillance in the GDR that makes so many Germans sensitive about their privacy, and willing to fight for it, giving Citizenfour a special relevance here. Chatting to a mathematician sitting in front of me, before the lights went down, and his friend who is one of the developers of TOR private browsing, they said that Berlin is an incredible hub of encryption know-how. There's a huge tech community  here and 2.5x more citizens using TOR browsing than anywhere else. That's why, he suggested, journalists like Poitras, with sensitive material, come to the German capital.
Snowden keeps saying that learning to encrypt your messages and browse the internet anonymously, using browsers like TOR, sounds difficult, but is actually easy. This is one thing I took away from the buzz of conversations this evening: that the world of whistleblowers and those who defend them or publicize  their message have indeed first needed to master a new language: to speak with the acronyms of email encryption and data privacy.  The importance of understanding that language gives a new sense to the axiom that language is power, because this film could never have been made without a proficiency in the methods of fending off the goliath of the NSA.
After the film was shown, Poitras received a standing ovation. She thanked Assange and Snowden. I ended up asking the final question of the Q&A––a question which might on the surface seem an obvious one. Since the world already knows all about Snowden, what did you hope to achieve with this film? What more does it really do? I hope the question didn't come off as aggressive.
Poitras replied that the film was its own end, that it exists for its own sake. Later, at the reception, I managed to speak to Poitras for a few minutes, and to suggest my answer to the question; that, as a historian, the film is extremely valuable as a document. There is voice-over at the beginning and at the end, but for most of the film the camera simply rolls, and we see Snowden in the hotel room, at his computer. We see his hands, his reactions to the news, the way he trembles in front of the mirror. It is almost as if we are watching him as a spy would, through a secret camera. 'Of course I had a certain perspective, things I wanted to say', Poitras tells me, 'But I didn't want to impose it'.
The perspective that I feel comes through repeatedly in the film, and also in Poitras's conversation with the audience, is the great sense of civil courage. More than once Poitras mentioned the fact that 'as an American citizen' in a country 'at war for 13 years' she feels certain responsibilities. Where does her sense of purpose come from? Is it a stretch to say it is patriotism? Is there something in it from that American education that teaches Arthur Miller's 'The Crucible' or Greek Tragedy in school, that would rather perish with dignity than thrive compromised? That education then meets a corrupted reality of government that speaks in the language of the American Constitution while trampellling on citizens' basic rights.
Snowden speaks of the same civic duty in Poitras' film, as he faces up to the consequences of whistle-blowing. He's accepted those consequences in advance, but it is hard to watch their effect on his freedom, and also on his body. One sees Snowden's physical deterioration during the film, as he loses his youthful softness and gets dark circles under his eyes. One must also wonder at his remarkably resilience at escaping the strength of the American authorities. Perhaps he will even find a way to Germany, if he is allowed to appear before the German Parliamentary Committee as a witness (the government has refused, but the courts might force it through)
You can debate the effect that the exposure of so much classified information has had on international relations, but Snowden's great service of exposing the massive violations of online privacy is hard to condemn. The civil courage needed to render this service, documented in this excellent film, found an appropriate home this evening under the Socialist Classicist roof of Kino International. It is a reminder of how far we have come since the days of Stasi terror, and of how much farther we still have to go.