Is Berlin a Good Place to be Gay/Queer?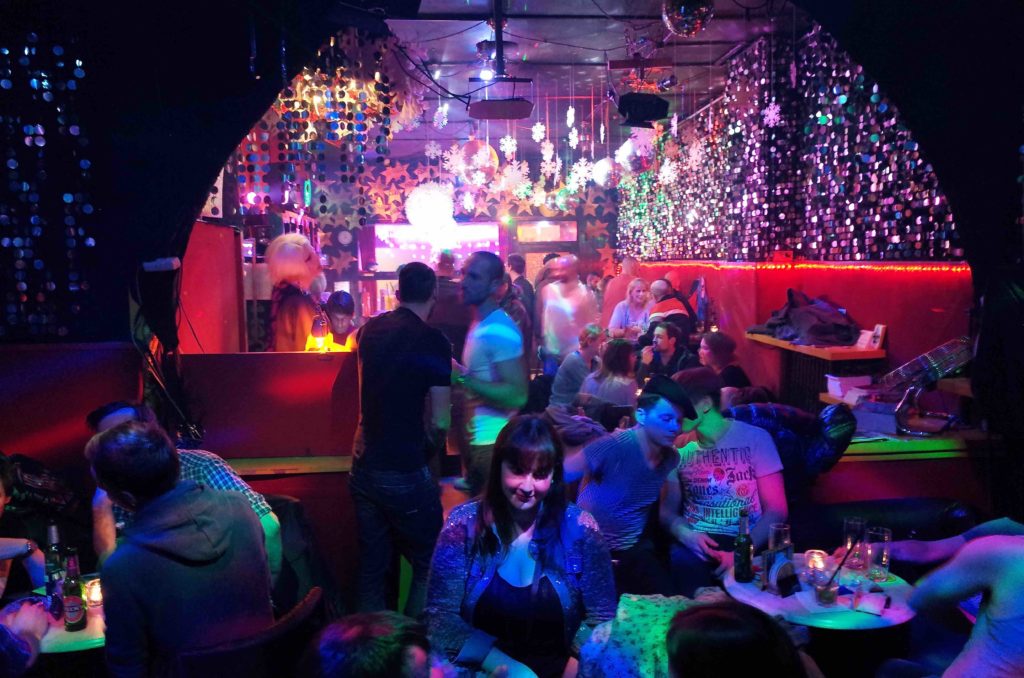 I often get the comment: isn't Berlin a great place to be gay/queer?
The reality is more complicated. Yes, it's great. No, it's not. At the same time.
Tell me the good bits first…
It's true that Berlin is great from a legal standpoint (with same-sex marriage, civil protections, a police force that is usually understanding). Societally, there are also advantages: Berliners basically don't give a damn what you do; being gay/queer is usually a non-issue; it's not a problem generally on the job market; the former Berlin mayor was gay. In terms of services, there are many doctors who cater specifically to gay / queer health, there are various state-sponsored agencies, and free counselling and mental health services. Finally, Berlin is a welcoming place of exile, where many gay people from oppressive countries have come to live (the Russian queer-rights NGO Quarteera is based here, for example, and many refugees from Syria have developed a scene here; gay Ukrainians are now making a home). Considering all of the above, Berlin could be described as a gay paradise.
And what are the challenges?
I know many people here find it hard to find a partner because Berlin is such a revolving door of talent. One friend explained that everyone is always moving on to the next best thing. Sex can be easy to come by, but good conversation with strangers can be rather more difficult. Excellent flirts might find themselves not using their talents as much as they'd like. That said, as the Berlin scene internationalizes, it certainly is becoming friendlier and less serious/aggressive in its mating rituals. In my opinion, I think it's up to all of us who go out in Berlin to smile, be friendly, engage in conversation with strangers, and 'soften' the scene a little.
Or, in the words of one club organiser, Danilo Rosato, we need to create an 'antidote to the technicality of the German fuck, which is too obvious, too serious. You go to a club here and, bang, you're fucking, but it's too serious, efficient, and not a lot of fun.  We Italians eat not just to fill our bellies, but for the pleasure, to enjoy. It's the commedia of the fuck. There's intrigue, some courtship, flirtation, some ambiguity, tension. You need these things. Otherwise, eroticism is missing'.
I think the 'contamination of the Berlin scene' that Danilo is speaking about is working. If you talk to people who know the Berlin queer scene from the 90s, they will tell you Berlin today is much more friendly, has moved beyond old-fashioned definitions, and is becoming more queer. Let's put it another way: you've arrived in the 'coolest city in the world', but who told you that in order to be cool you need to act like an unfriendly dick? Actually, being cold and bitchy is a sign of insecurity and makes you an asshole. Don't be an asshole. Flirt a little instead. You'll find the sex you get later will be better for it too. And you'll be making Berlin a better place.
And so where to meet people…
I was recently reading a book about the 'death' of the gay bar. But Berlin is actually a city where people continue to go out to bars. This is partly because beer is so cheap. And partly because you can have sex on premises in a lot of Berlin bars, which many find easier and safer than inviting a stranger to your house. It's also perhaps because many report that Grindr is a lot of looking and not a lot of doing in this city––maybe you'll find your phone is relatively quieter in Berlin than many other cities? If so, it's a reason to put on your shoes and go out of the door and meet people here in real life, the way other Berliners do.
And don't stop with the bars: groups are also very popular places to meet people, especially those for sports. Vorspiel is an organization (and clever play on words, meaning 'foreplay') for gay and queer male sports. A huge variety of sports are offered and many participate in the Gay Games. Gay Yoga is also a very popular activity. There are also a number off-beat community centres, such as The Village, which offers seminars, massage, hugging sessions, contact improv, film nights, etc.. Mann-o-Meter offers conversation and help groups for young gay people, gay AA, etc., as does the Schwulenberatung, a huge enterprise which offers counselling to gay men. The Lesbenberatung is the Lesbian equivalent. There are also a number of bars which tend to be talkier than others and it's worth noting that night clubs tend to be much more interactive than bars in this city, where people might end up spending time with friends rather than mixing right away. So don't go home early!
Some closing thoughts…
As I sometimes tell people, if you don't like Berlin, change neighbourhood. I think the same applies for the gay/queer scene. You will find that there are many scenes here. If you find Schoeneberg too fluffy and poppy, then try Kreuzberg and Neukölln. If you find the latter too serious and cool, then you might want a more local bar in Wedding, or something with a starched collar in Mitte. If you are feeling half the person you want to be, frustrated on the apps, then maybe it's time to join one of the groups listed above.
And if it is all too much, why not just go out into this embracing city without a queer/gay agenda, and rather enjoy it for all its other excellent offerings, cultural and hedonistic. You might just find someone where you weren't looking…